Marquez arrives in Phillip Island with no pressure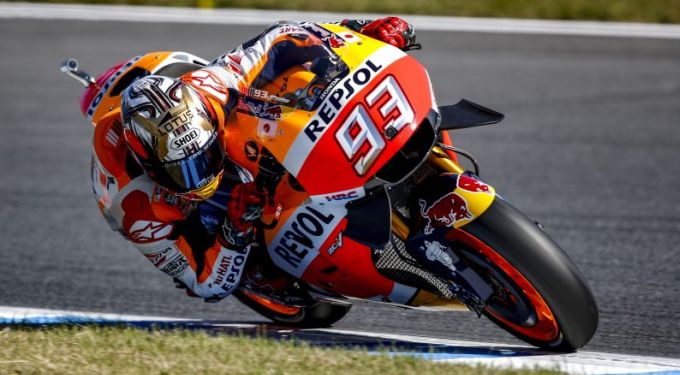 Newly crowned MotoGP World Champion Marc Marquez will arrive at one of his favourite circuits with no pressure as he hopes to help Honda secure the constructers and team titles. 
The 23-year-old wrapped up his third MotoGP World Championship last weekend in Japan, but is not thinking of taking his foot off of the gas just yet. Marquez' form at Phillip Island is ominous for the rest of the field.
The Spaniard pipped Jorge Lorenzo to his first win on the island last season, but was disqualified for failing to pit in an allocated pit window in 2013 and crashed out of the lead in 2014, showing pace in all three trips to Australia.
With the title already wrapped up, Marquez is hoping for favourable weather this weekend as he searches for his third victory in a row.
"It's fantastic to arrive at Phillip Island with no pressure for the Championship, as the track is one of my favourite in the calendar, along with Austin and Aragon," said Marquez.
"It's so fast and flowing and you really have a lot of fun riding there. One of the main issues to take into account there is the weather. It's usually very cold during this period of the year and always windy, something that you feel a lot, especially at the end of the final straight. You have to find a setup to make the bike as stable as possible," he said.
"We'll try to win some more races before the end of the year as there are also the constructors and the team titles to think of."
Photos via Repsol Honda