Brad Baker wins 2015 Superprestigio from Marquez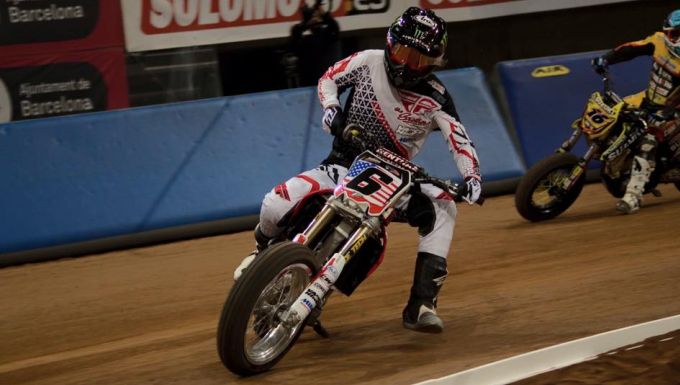 American rider Brad 'the Bullet' Baker won the third edition of the Superprestigio from Marc Marquez and Jared Lees in Barcelona this evening. 
Baker won a thrilling finale in the Palau Sant Jordi from his Spanish rival by just 0.1 seconds over 16 laps, on his way to win his second ever Superprestigio crown. Baker, who won his 'open' class final earlier in the evening lead from start to finish, confirming the speed he had shown all evening.
A slow start from four-time AMA Grand National Champion Jared Lees in the final meant that it was only ever a two horse race between Baker and Marquez.
Baker held an early lead and built a small gap, but Marquez managed to close the gap with each passing lap, although every time he managed to get within distance to attempt a pass on Baker, his aggressive nature saw the bike loose traction and the opportunity for a clean pass wasn't forthcoming. 
"It's been an emotional year for me," said the American. "Last year I broke my shoulder and my elbow so it's been a difficult year for me. I've been here for the last 14 or 15 days and it's been a great trip here and this is one of my favourite events of the year.
"When you get the pressure from behind you there's no need to look behind you to know that he's closing. You hear his engine, you hear the crowd get louder so you know that he's closing. You have to take a lower line to protect from behind and taking that line is very mentally challenging and it's difficult to ride the circuit. It's very easy to make a mistake and that's where your experience counts for so much."
Marquez showed Baker a wheel on multiple occasions, including an attempted tough pass which saw the two touch in the final turn four, but Baker ultimately managed to hold his nerve and held off the challenge of the two-time MotoGP World Champion.
"I tried to make a good start in the race but in the first corner I made a little mistake and lost some time," said the Spaniard.
"Brad opened up a gap and I was able to close the gap down again, but to overtake, especially on these track conditions, was really difficult. I tried until the last corner, but I couldn't do it. But with another year I've learnt so much from them, and they're racing all year against each other on their Harley Davisons, on their Hondas, and I'm just happy to be on the podium for one more year."
Mees was never close enough to make it a three-way battle for the win and had to settle for the last step on the podium, with Baker restoring some personal pride after Mees won the respective American contest in Las Vegas two weeks ago. 
"I had the fourth choice of lane draw and I ended up on the outside," said Mees. "I knew that making a good start would be difficult from there and I was fifth on the first lap. With the track conditions as they were it was very difficult to recover that time and at the end of the race I had a great view of the fight between Marc and Brad for the win but Brad stayed smooth, just like he always does at home, and he took home the win.
"From last year to this year the European riders have made a huge step forward with their consistency. Last year they would have one fast lap and then the second lap wouldn't be as quick but this year they so much more consistent. It's a great event and the organisers do a great job and it's honour for me and Brad to come here."
Photos via Superprestigio and Brad Baker Facebook