Tom Sykes would like to try MotoGP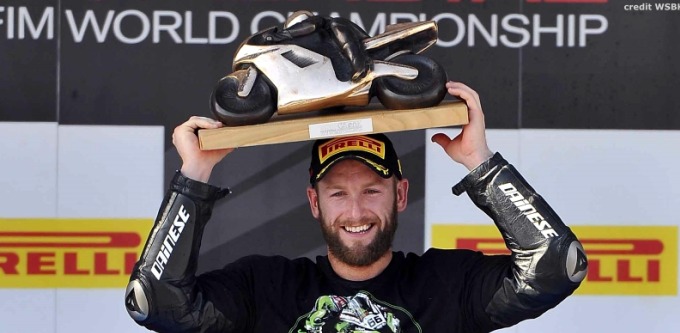 World Superbike World Champion Tom Sykes has admitted he would like to try his hand at racing in MotoGP, but the opportunity would have to be right, as he is enjoying winning with Kawasaki in WSBK, he would have to go to win. 
The 29-year-old Brit won the 2013 World Superbike title, and looks well on course for repeating the feat with Kawasaki this year, with whom he signed a new two year extension with two weeks ago. In the past World Superbike champions have been hot property for MotoGP seats, however the success of Marquez has seen team owners hunt for younger talent rather than plucking from other paddocks. 
With Kawasaki showing no interest in moving back to MotoGP, Sykes will be at least 31 by the time he can negotiate for a MotoGP contract in 2017. At the same time Alex Rins, Alex Marquez, Jack Miller and Romano Fenati will all have had Moto2 experience under their belts, and will more than likely be moving up to join the likes of Marquez, Espargaro, Redding, Viñales and Folger in the next generation of MotoGP riders. 
Sykes would love the chance to try a factory Yamaha or Honda, he just wants to win. But not only does he sense his MotoGP chance as limited, he said he doesn't understand the mentality of MotoGP managers who want to recruit riders from Moto2 or Moto3 rather than established Superbike riders. 
"I would be very curious to try MotoGP. In order to have success there, everything has to be at a very highest level," Sykes told speedweek.com. 
"I do what I can. On the right bike, I could be competitive in MotoGP. I like MotoGP, but all the doors are properly closed. I don't know why this mentality exists there. My feeling, is that some of the Superbike riders could do a better job than some of the younger MotoGP riders. But MotoGP teams prefer riders from the Moto2 World Championship, who themselves come from Moto3. I see this as a much higher risk than taking an established Superbike riders. I know what it takes to win."
Despite being 31 at the earliest chance of a MotoGP ride, Sykes doesn't think his age will be an issue, with Max Biaggi and Valentino Rossi showing you can remain competitive despite your age if you have the talent to begin with.
"Look at Valentino Rossi. He is mid 30's and many people have doubted him. He is the best example that you don't forget how to ride a motorcycle. I was beaten in 2012 by the then 40 or 41-year-old Max Biaggi. Rossi only had his low, because he rode for another manufacturer for two years. Were it not for Marc Márquez, he would have won some races already this year. Rossi is a good example that you have to be a good rider of course, but you also need the right package.
"I ride a stock bike and some of my lap times are not far from what they do on prototypes. We would have to change only little things on our motorbike to do the same lap times. I know that the best riders in MotoGP have incredible talent. But what is behind the top 5? I only want to win the race. If the top teams are not interested, then what?
"I have therefore no sleepless nights. Maybe some people would need a reality check – it's no big deal for me.
"A few years ago people thought that I did not want to ride in MotoGP. I would like to try it, but only if the conditions are right."