Spies: I can't see anybody getting near Marquez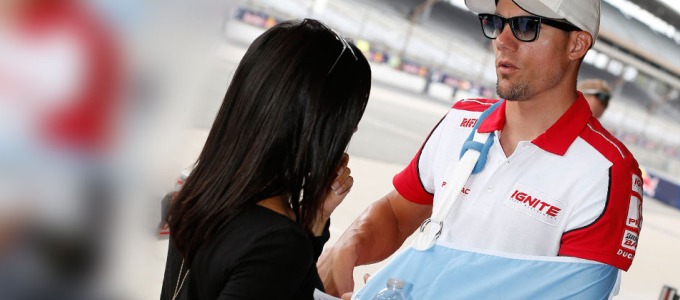 Ben Spies' time as a motorcycle racer is over, for good as the Texan confirmed he will never be able to ride again. 
The Texan retired from all forms of motorcycle racing back at the end of the 2013 season due to shoulder problems, but the early retirement from motorcycling has opened new doors for Spies since he was forced to walk away from the sport. 
Spies now lives in Dallas, Texas, with his Italian girlfriend Patricia. He owns a restaurant and rides and runs a professional cycling team called Elbowz cycling too. But this doesn't mean he has stopped following what is going on in MotoGP. Still a fan of the sport, Spies enjoys visiting the paddock, and was there this year for the second round of the season in Austin, just down the road from his home. 
"It was nice to visit my old team and see a lot of friends in the paddock – Spies wrote on his blog for BT Sport – Afterwards I drove home to Dallas and some friends came to stay for a few nights, including Casey (Stoner). We had a lot of fun, went fishing, took him to my family's ranch and also to my burger joint, it was good just to hang out for a few days, away from the paddock – something we didn't really get a chance to do in the past."
Whilst he had a nice time catching up with old friends, it was the new face that has impressed Spies the most. Spies never really raced with Marquez, but he can fully appreciate the genius of Marquez.
 "What Marquez is doing is pretty impressive! I said it already last year and it doesn't take a rocket scientist to see that this kid is incredibly special. He's adapted to the category seamlessly and he looks like he's been on the bike for years. Last year was already remarkable, but eight out of eight this season and six of them from pole? It's insane. The scary thing is I can't see anyone even coming close to challenging him."
The Texas Terror was brutally honest on his health, and he admitted that his time as a motorcycle racer had come to an end due to his injuries sustained in the 18 months before his retirement.
"I'm still not able to ride – it's just too big a risk. Doing normal everyday things is not so bad, but I still have nights where I wake up and the shoulder is out of its socket. Another surgery is highly likely – even without injuring it again – but if I were to crash on it again then I'd more than likely need a full shoulder replacement, so there's zero chance of me racing again unfortunately.
"I've been flattered to receive offers for testing roles etc, but it's just not something I can consider. Hopefully in the future I can help out and be involved in the sport in some shape or form but for now I'm trying to figure out what I want to do and how I want to apply my time."