Rossi unhappy with Friday practice pace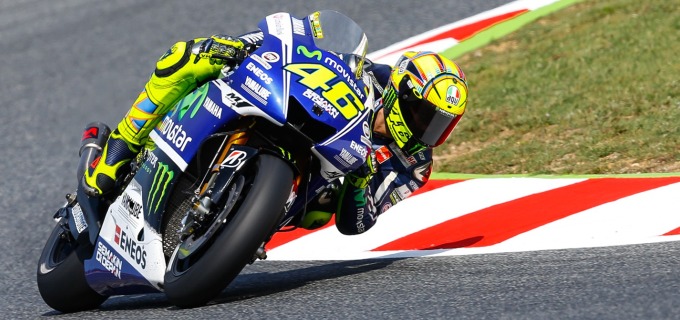 Nine-times MotoGP World Champion Valentino Rossi has admitted that he is unhappy with his pace on his Movistar Yamaha during the first day of practice in Barcelona for the Catalan Grand Prix. 
The Doctors fastest time of the day was a 1'42.432 which was only good enough to see him in seventh place, three quarters of a second off the time set by Aleix Espargaro in FP1, with Rossi struggling on corner entry more than anything else in the scorching Catalan sunshine. 
Despite leading the charge for Marquez in the championship, the Doctor knows that he has work to do in order to get a decent starting position for Sunday's race. 
"It was a very difficult track today for everyone because the conditions, especially this afternoon, were very hard. It was very demanding physically and also for the bike and for the tyres and after some laps we slide very much," said the Doctor. 

"Also the condition of the track in the last part is now very good with some bumps and not a lot of grip. I'm not very happy about my pace and my position because, but I had a lot of problems with the entry of the corner this afternoon, so for this reason I can ride to a level but it is not enough. 

"We will have to go faster and tomorrow we will modify the setting and try to go another way. It will be more clear in the qualifying when everybody uses the softer tyre, but it will also be more clear on Sunday because whoever has the best rhythm will be very important on this track.

"We will check the data and decide on the tyres as all options are possible. We also have to decide on the strategy for qualifying."

As well as front end troubles, Rossi also said that he was having braking problems. Marc Marquez on his Honda RC213V have really set the standard now on braking, and it's something Rossi will have to adjust.

"The braking has changed a lot in the last years; in the past the biggest problem was lifting the rear, now with more changes to weight distribution and setting, the rear tyre is more on the ground. 

"The engine brake also helps a lot and is a lot better than five years ago. Every rider has a different technique, for example between me and Jorge I am more aggressive at the beginning, while he is more smooth. But we have to try to brake at the maximum and it's very important to use the power of the brake," explained the GOAT. 

"I don't use the rear [brake] a lot, just in the corner. One of his [Marquez] strongest points is the braking and entry in the corner because he has very good control of the bike and a lot of skills to control the bike, so he can continue to brake on the edge of the corner when entering the corner. 

"It's a thing for Marquez that is very good to do and I'm very happy for that because he is a good guy and I like him a lot; I like his style and I hope that we will fight for the championship in the last race!"