Marquez continues to dominate in Malaysia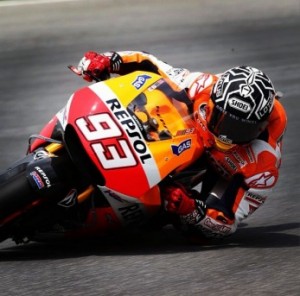 Marc Marquez has continued his MotoGP domination in Sepang as he topped the timing sheets for the second day running.
The reigning MotoGP World Champion topped the sheets yesterday by over half a second from team-mate Dani Pedrosa, and again today Marquez had a 0.4 second advantage over his closest rival.
Marquez completed 65 laps today, and was the first man so far this week to break the two minute mark, with a lap time of 1'59.926. Marquez posted the lap on his 38th of the day, and knocked three tenths of a second off his time yesterday, whilst not necessarily targeting one quick lap. When asked at the prospect of beating Casey Stoner's lap record, Marquez wasn't targeting that specifically.
"We will see," Marquez replied when asked on the issue. "If you want to attack that time then you must try at 10am in the morning, when the track will be faster. Anyway that is not the target…"
Although overall Marquez was happy with his new bike. "The feeling was quite good," said the Spaniard. "We started like yesterday and then we tried different things; we tried a different chassis. In some points we improved a little bit but in another point I didn't like it because it was a little nervous, but even with that I was happy because we got a lot of information.
"The bike was a bit more nervous in the fast corners and I didn't like it, especially in the first few corners where you can win more time. You need to be safe there because it is a fast corner. We concentrated on different set-up and different geometry and we improved a little bit with braking stability, but we are still continuing to lose a little bit on corner exit."
Dani Pedrosa improved his time from yesterday, and found himself second to his team mate. Pedrosa completed three laps less than his team mate, and did his fastest lap of the day on lap 12, early in the day, as once again he targeted set up and testing rather than being concerned about an outright lap time.
The top three was rounded out by the another Honda, and it was the impressive Stefan Bradl who finished behind the Factory duo, just three thousands of a second behind Pedrosa. The German was sixth fastest yesterday, and knocked a second off his time from yesterday as the German continues to work with his LCR Honda.
Despite going four tenths faster than he did yesterday, Valentin Rossi found himself two places lower, and in fourth place. Despite his progress, there are still issues The Doctor still wants to sort out with his new M1.
"Today is another positive day, we worked a lot and I rode 60 laps," said the nine-times World Champion. "We tried a lot of things including new tyres and old tyres, to try to make a comparison. We worked on the settings of the bike and tried some other stuff, some things were good and some did not work as we expected.
"Anyway I'm happy because I improved my lap time from yesterday and I'm in fourth position and not far from the front. It was a tough second day after yesterday. Our work is in progress, we took some good data and tomorrow we have to do something else."
Aleix Espargaro was fifth as he continued his stunning performance on the new open class' Forward Racing FTR Yamaha, less than a tenth behind Rossi on the full package. Espargaro posted a lap time of 2'00.547, which would have put him fourth on the grid last year, ahead of Jorge Lorenzo.
"I'm very satisfied because this morning I could improve my lap times and I was riding with a good confidence," said Espargaro.
"Of course, there is a lot of work to do; I need to know the bike better and to adapt my riding style to the new machine. Tomorrow we will do a long run to better understand how the bike and especially the electronics work in the second part of the race."
Behind Espargaro was Jorge Lorenzo who once again focused on long runs as he faces issues with the new 20-litre fuel tank in his M1. Despite ending the day in sixth, Lorenzo was happy with progress made. "So today, apart from the position which is not ideal, I think we made one step forward. Changing something in the electronics we improved the behaviour of the bike in the corners and it is now more like last year," said the two-time MotoGP World Champion.
"I can keep a more constant pace and be a little faster for one lap. We need to keep working as our rivals are strong at this moment but today I'm more happy than yesterday."
Bradley Smith improved on his time yesterday by over a second, and ended up finishing just three hundredths of a second behind Lorenzo. Smith will relieved with his progress, and got 66 laps under his belt as he continues to develop the satellite Yamaha.
Once again Andrea Iannone was the top Ducati, finishing in eighth position, and encouragingly for Ducati, less than a second behind Marquez. The Pramac rider posted his fastest lap on his ninth lap of the day, although he only managed to complete 49 laps.
Alvaro Bautista finished the day in ninth on his GO&FUN Gresini Honda, and was the last of the day to lap in the two minute flats. Pol Espargaro rounded out the top ten as his continues to familiarise himself with his M1, knocking over half a second off his time from day one.
The Ducati trio found themselves just outside the top ten, led by Andrea Dovizioso, with Cal Crutchlow closely behind and Michelle Pirro rounding the trio out. Dovizioso and Crutchlow were separated by a quarter of a second. Crutchlow spent the day on the GP14 and is happy with some of the progress he's made.
"We've made some improvements since yesterday, there's no doubt about that," said Crutchlow. "We went through a lot of settings. Up, down, left, right. But essentially it's difficult to analyse because the track condition changes from lap to lap, let alone a 30 minute window. That's the normal time it takes to make a change and the track has already changed by the time you go back out.
"If the bike had stayed how it felt from 10-11am I'd have declared myself happy. After that every bike starts to feel worse and it seems that's more of a hindrance for the Ducati. But I'm pleased that we found some positives, rather than nothing yesterday as such. We improved in the braking zone and corner entry, but that's about confidence as well. I need to get used to riding this bike, not the previous bike [Yamaha] because it's a lot different.
"Where we need to gain is to start looking for rear grip and the rear of the bike. We know there's still a problem turning into the corner, but at the moment we can't change that.
"Everyone says riding this bike more aggressive works. It does in a way but it's having the confidence to do it."
Nicky Hayden on his Drive M7 Honda was 14th, and was once again the fastest production Honda of the day. Despite being the fastest Honda of the day, Hayden still areas that he wants to improve. He has said that his Honda lacks the power in a straight line, and it's slightly disheartening being 2.3 seconds off the pace.
Randy De Puniet was the busiest man of the day as he managed to complete 96 laps, although the Frenchman remained over three seconds off the pace, he did nearly improve his time by a second compared with yesterday.
With the track rubbered in, we can expect even more fast times tomorrow, and be sure to stay tuned to GPxtra and to follow @AaronRowles for updates from Sepang through the night.