Herrin ready to embark on his dream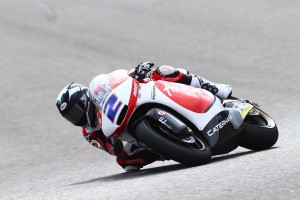 In the Grand Prix paddock this year we have three American's. The two that are in the MotoGP class are Grand Prix veterans with 368 MotoGP starts under their belts, the third is a Moto2 rookie, and he is Josh Herrin.
Herrin is about to embark on his debut season in Moto2, but he has taken an unconventional way onto the Moto2 grid, but the young Californian is ready for his debut season with the new Catherham team.
Herrin enters Moto2 as a defending AMA Superbike champion; he took on Josh Hayes last season, and beat him on the same bike. Despite not having any prototype racing under his belt, Herrin clearly has the speed to achieve not only good things, but great things.
The 23 year old had been in the AMA paddock since the age of 16, racing in the ProSupersport series, before moving to the AMA Supersport series in 2007. In 2010 he became the second youngest ever winner of the famous Daytona 200 aged just 19. He then spent two years in the Monster Energy Graves Motorsports Yamaha squad riding a R1, before eventually winning the crown last year.
Herrin was in a good mood in pre season testing after positive tests in Valencia and Jerez, as he prepared for his debut season in Moto2.
"My off season went well. I was able to do a lot of training and spend time with my friends and family before we start our busy season," Herrin told GPxtra in an exclusive interview. "I am very positive after our first few tests and cannot wait to go racing this year."
Herrin didn't follow in the footsteps of Edward or Spies by stopping off in the World Superbike paddock prior to his Grand Prix stint, he instead followed the steps taken by Nicky Hayden by joining Grand Prix racing directly from the AMA paddock.
Given his chance in Moto2 by the new Catherham team, it was an easy decision for Herrin to make when the offer came his way.
"I have always wanted to race in the world championship and when the deal with Caterham came up it was a no brainer if I wanted to chase my dreams. It was very hard to leave such a great team in the states but they backed my decision 100%."
With the Caterham team also being new in the Moto2 paddock, it's not only Herrin who is on a learning curve. They will all have to get used to the rigours of Moto2 racing, however there is one man in the team who is isn't new to, Herrin's teammate, Johan Zarco. Zarco will be on the other side of the garage, and the experience of the Frenchman who is about to start his third season in Moto2 will be a huge help to Herrin in setting the bike up, and helping tips and advice ahead of new circuits and surroundings, as well as being a marker for the American to aim for.
"Initially it was difficult starting with a new team, after being with Graves Yamaha for almost 10 years. However Caterham brought me in and made me feel like family from day one and it has made the transition very good."
When asked if having Zarco as a teammate, Herrin said; "It helps when trying to set a target for myself in the beginning of the season, as well as sharing data from the track."
Herrin isn't a stranger to 600's even if he isn't used to a prototype 130 horse powered Moto2 machine. Seven season's riding them means Herrin will understand how to ride a 600, even if the Moto2 bike is a little different to a Supersport 600.
"The Moto 2 bike is awesome. It took a few days to get used to it and I still feel like I am learning every day I ride it but it is a great bike.
"I have always paid attention to the Moto 2 racing more than any other class because it has been a class I have wanted to ride in since it started."
When asked if he thinks his previous time on a 600 would help him adapt to the Moto2 bike, Herrin thought it would, even though it may take a while after riding a 1000cc R1 for the past few years.
"I think it will help me a little but I am fresh off racing a 1000 so it is going to take some time to adapt to the 600 again. I had around 200HP in the R1 and the Moto 2 bike has around 130."
When speaking about the other American riders, and what contact he has had with them Herrin said he had briefly spoken to Edwards, but hoped to catch up with both Hayden and Edwards once the paddock all met up in Qatar.
"I spoke with Colin at an event we did together for the Texas GP. We haven't got to see each other around the paddock though because all of the Moto GP testing and Moto 2 testing is separate. Hopefully at the first race I will get to talk to Colin or Nicky."
The conversation then moved on to the topic of American's and why Herrin thought there weren't more Americans in the Grand Prix paddock. With Spies retiring, and riders like Kenny Noyes the only American to feature in a support class since 2010 there is a real absence of riders from America, especially when you factor in some of the Grand Prix legends who have come from the USA.
"It is hard for Americans to get a ride in the world championship. Most teams want the rider to bring money to the team and that is hard for an American rider to do."
Herrin is extremely excited to be in the Grand Prix paddock, and in one of the most competitive classes in all of motorsport, confident he can perform, but also very real. When asked what his aim for the 2014 season was, Herrin said he would take stock and evaluate after the first couple of races.
"We will see after the first couple of races. Of course I want to win though."
The win is certainly in Herrin's reach if he and his team can get to grips with the new machinery. A learning season is ahead for Herrin, and he understands that. If he can continue to progress, and show what he is capable of, whilst gathering useful information there is no reason why he can't use this year as a stepping stone to a title challenge in 2015.